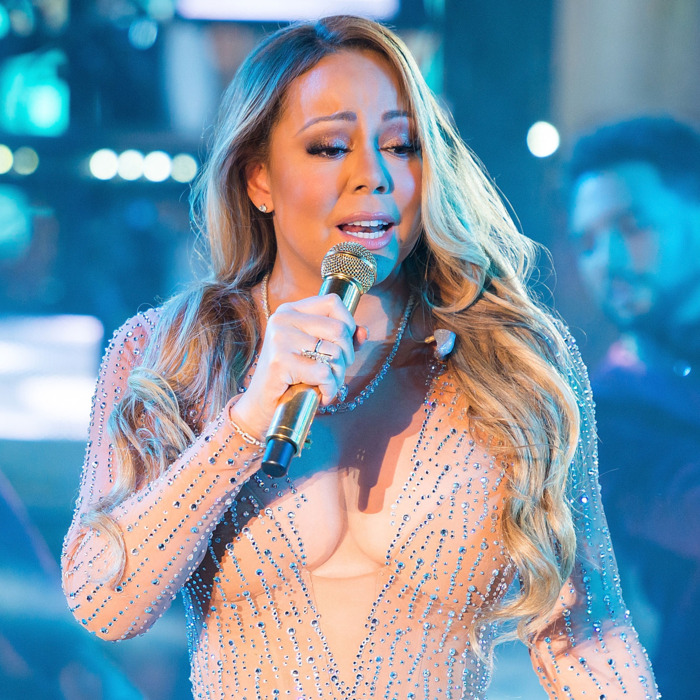 Mariah Carey sees which way the wind is blowing and why.
Winter was never known for abundance; the whole point of the season is its lack. Cold saps initiative, and there's little cause to go outside. It's a time to reserve one's energies for more promising times, and musicians aren't exempt from the seasonal hibernation. As our spring music preview looks forward, our winter music reviews show a glaring absence: Albums have been put out in the past three months, of course, but among artists above a certain level of prominence only Justin Timberlake and Migos saw fit to time their releases so early in the year.
Given that Timberlake hasn't been able to pass as a trendsetter for well over a decade, it's clear that he's an outlier, his rollout timing a holdover from a bygone era. Mariah Carey, another industry veteran, sees which way the wind is blowing and why. In a recent interview with> V magazine, she notes how "in the music business, if you care about the Grammys and submitting your stuff before a certain time frame, you want a single out in the summer, and then you want to have your record before the Grammy deadline." With major artists as eager to collect golden gramophones as ever and the deadline for eligibility falling at the end of September, the smart move is to have an album so hot at nomination time that it would seem a travesty not to put it up for Album of the Year and the other marquee Grammys.
>

So goes the thinking, and there's plenty of circumstantial evidence from this year's awards to back it up. Consider Ed Sheeran's Divide: Released early in March 2017 and driven by the success of "Shape of You," released early in January 2017, Sheeran's album dominated charts and airwaves throughout the first half of the year and onward. Yet despite Divide's brisk sales and inoffensive charm matching the profile for the sort of album Grammy voters like to reward highly, it only received two nominations in the less-than-central categories of Best Pop Solo Performance and Best Pop Vocal Album. Meanwhile, later albums like Kendrick Lamar's DAMN. (released mid-April), Lorde's Melodrama (mid-June), and Jay-Z's 4:44 (late June) received AOTY nods. There could be other reasons for Divide being snubbed — for starters, it's simply not as good, aesthetically, as the other three. But it's hard to discern, looking back, a moment when the Grammys have ever cared a great deal about quality.
>
>

There are, to be sure, countless variables involved in the timing of album releases and in the dynamic of Grammy nominations. Albums aren't always assembled or launched in a timely manner (rap, especially, plays by no rules), and the logic of the Grammys is absent at worst and convoluted at best. It's entirely possible for a winter album to win AOTY: just look at Beck's Morning Phase, which (somehow) took home the biggest prize in 2015 despite being released in February. All the same, it's striking how the heaviest hitters in music are holding their albums in reserve this year. (Even our spring preview has no firm release dates for the likes of Drake, Beyoncé, Ariana Grande, or Nicki Minaj; it's entirely possible that, like Mariah Carey said, they'll save them for later in the year.)
>

With so much potential concentration in the third quarter of the year and such neglect of the first, it's important to remember that the last three Album of the Year winners were released in the fourth. Taylor Swift's 1989, Adele's 25, and Bruno Mars's 24K Magic were all released soon after the Grammy deadline, not before, to be eligible for the following year's awards and extend their respective promotional cycles even longer. It seems like, coupled with strong numbers on the charts (and actual numbers in their title ­— weird coincidence), the fear of failing to recognize an album long gone seems like a surer way to navigate awards season than the pressure to crown the album of the moment right as nomination season nears. Maybe the key to Album of the Year is for Drake to release 6 God in October or Beyoncé to launch 100 in November? In any case, one thing seems clearer with each passing year: So long as winter is coming, the big albums aren't.

Source : http://www.vulture.com/2018/03/album-releases-why-big-albums-dont-drop-early-anymore.html